Moroku believes that if we focus on a customer's success and make their success a measure of how we measure our own success we will build category leading businesses that will compete on purpose not price.
The 2.8 billion people in the world who are unbanked, coupled with a similar number of under banked presents a large opportunity to assist with financial literacy. Household debt to income ratios are at unprecedented levels and the global financial crisis has left thousands of banks with lowered credit ratings, additional capital adequacy burdens and restricted operating environments that are making it more difficult to raise cash, grow and compete. These factors combine to demand that banks improve how they encourage retail customers to pay closer attention to their banking affairs, pay off their debt and save. Moroku believes that by making banking fun, rewarding and less scary we can do this for banks and their customers
Moroku applies the most ancient and most learned forms of learning to help banks empower their customers to spend time on their banking matters and get their financial house in shape. By doing so we help banks build sustainable businesses based on their customer's success. We utilise our product and methodology with our clients to create a vision for how mobile technology, gamification, cloud services and social media can augment the customer' experience and drive business outcomes. We then create a plan for execution, with a capability that allows Moroku to take ownership of the technology and engineering operations, allowing our clients to focus on their commercial operations and making their business a success.
We combine lean start-up with design thinking and take an agile approach to product development and management, placing client feedback cycle as a critical process for achieving success. We recommend abandoning lists of embellished features and benefits, and prefer to focus on customers, problems and solutions by using design-thinking and a human-centred approach to innovation.
Our engagement model sees us identify financial service providers that are authentically looking for ways to help customers succeed financially via digital. From there we work together to identify the problem statement that articulates the behaviour changes we seek to deliver. Through an agile design process we collaborate to build one or more applications that are then productionised with various components of the architecture shared between Moroku and our partner banks.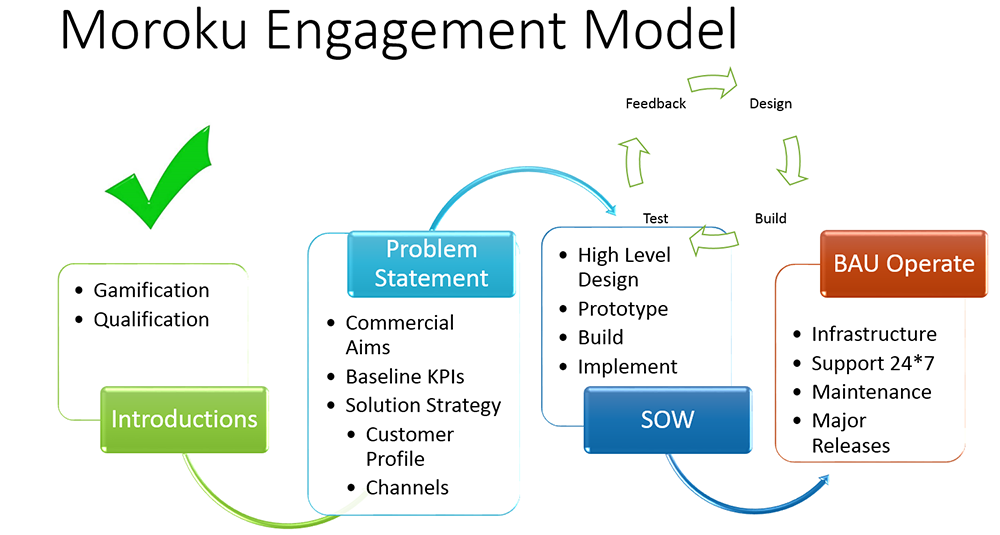 Through our way of working, we collaboratively create new business models that are anchored in the future and not just in solving today's small challenges. Please watch the video below to get an  idea of the difference in our designs to conventional applications and the type of mechanics we employ. If you'd like to set up your own instance of a demo, download the app from the link at the bottom of the page.
Please read more on our Banking Platform here – Moroku Banking Platform