Moroku applies decades of research into human psychology, motivational theory, banking software and game design to create banking applications that are fun to use. These applications are designed to encourage customers to spend time on their banking and financial future, building financial literacy progressively.
Moroku provides banks with a set of mobile banking applications and accompanying services in the cloud that enable banks to rapidly deploy such innovative solutions quickly and iteratively to their customers. Our target customers are banks that wish to build financial capability within their customer base in order to sell these customers increasingly more complex banking products. We provide our solutions via a subscription model alongside complimentary design and integration services.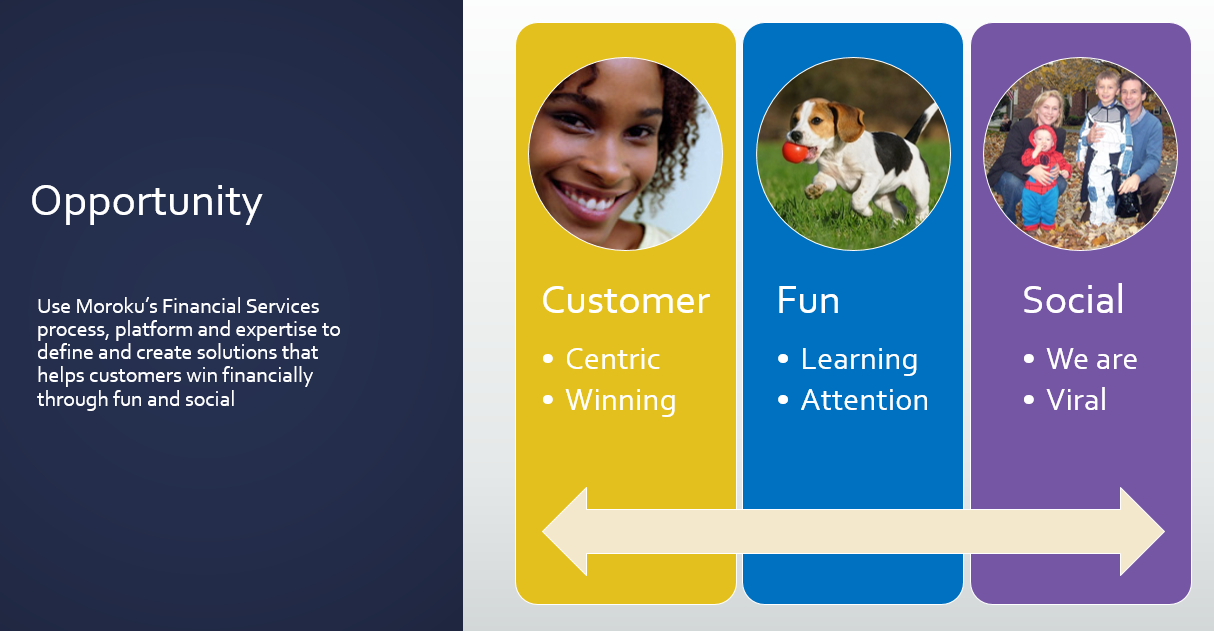 Our engagements commence with a strategy discussion around constraints and outcomes, before any software is built. Prototypes are then developed to validate the proposition and provide input for production proposals.
Engagements typically involve:
production of a gamified business application
implementation of the Moroku GameServer
integration with core systems
operational and cloud services to run the application
A Brief Summary of Our Process:
• Strategy – Building a vision and strategy to stand apart by exploring the intersection of mobile technology, gaming, social media and the cloud.
• Protoyping  – Taking an idea and quickly building a prototype for stakeholders and customers to test assumptions and gain early insights, in order to produce outstanding user experiences.
• Building – Transforming prototypes into successful product outcomes.
• Management – Taking ownership of the ongoing build, management and future releases of the product.
• Operations – By building the product through a set of connected cloud services, we provide a one-stop-shop for the product and its operations. We constantly measure the results and tune the strategy accordingly.