Half the world doesn't have a bank account. The overwhelming majority of the remainder arrive at retirement with insignificant savings.
Whilst retail banks have traditionally made good profits from mortgages and net interest income, the age of the customer is in front of us. In this world customers are more picky than ever before, new competitors lead the way with useful digital solutions, shareholders demand market share and the macroeconomic and regulatory environment dictates sustainable business practices.
Moroku GameSystem helps banks build digital banking and wealth management solutions that are relevant and take customers on a journey of building financial muscle, teaching them through repetition the skills to pay off debt and save , rewarding them for saving not spending, to learn that it is good!
This is a new operating model for banks. Today the majority of banks are heavily reliant on their mortgage businesses. Under this paradigm, large sales and marketing teams are focused on mortgage deals i.e product focused. Under the Moroku model, banks become customer success focused, motivated not just on acquiring a mortgage but most importantly upon helping their customers in paying it off and succeeding. Under this model the bank builds a sustainable portfolio of customers who are building financial skills , become better, stronger customers financially, better positioned to take on more complex products, such as wealth management and investments and are a lot more likely to promote the bank to their friends and family.
Moroku GameSystem is complete set of technologies for the deployment and operation of the next generation of mobile banking and wealth management applications that employ motivational theory to build financial muscle and literacy.
Product highlights
Multiple Game Mechanics
Moroku GameServer embeds a powerful range of game mechanics to motivate, educate and engage your customers, individually as well as collectively. Rewards and penalties can be applied, ranked on multiple leader boards based on demographics and reset.
Game Control and Configuration
The GameServer control panel lets you set the trigger points for reward and penalty based on the customer activities you define along with the nature of any quizzes and other en-route activities. These are then connected to the app for the engine to start calculating positions for status and reward.
Player Management
Comprehensive player administration, recruitment and statistical capture.
Analytics
GameServer provides you the information you need to understand who's winning, who's losing and who's engaging how, allowing you to refine the game and further improve the engagement education and experience.
Integration
There are two points of integration with GameServer. Web and mobile application integration occurs through a set of web resources. This allows the application developers to focus simply on the game. GameServer then comes with a set of integration and security frameworks and reference architectures to connect the game to operational systems
The platform's four components are configured, provisioned and licensed from the cloud.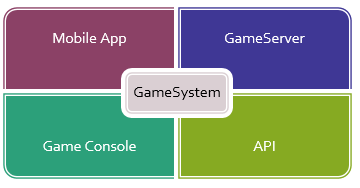 Mobile App
A native iOS or Android mobile app that the customer downloads and uses to get their banking done. Motivated individually and collectively players sign up download and get to work. From initial onboarding to ongoing engagement the customer is guided on their journey to mastery. The bank provides the initial registration through internet banking that provides an authorization code and sets up and connects the transaction accounts with the app.
Game Server
Non-banking interactions are all delivered through our cloud based GameServer. This incorporates the player management, their progress and performance. No Personally Identifiable Information (PII) is held within the GameSystem, enabling us to support most banking regulations with regards to the use of cloud infrastructure.  An anonymisation service connected at the bank side manages the relationship between the GameSystem player and actual accounts at the bank.
Game Console
Bank staff manage and review application information via the Game Console. Using salesforce.com credentials provided as part of the license, numerous aspects of the platform can be managed such as the game rules, in-app adverts, communities, quizzes, categories and imagery. Customisable standard reports are provided to measure performance and behaviours such as payments made, click through rates and customer acquisition.
API
An API is provided as both documentation and reference implementation to integrate GameSystem with the bank's payment and internet systems. This enables the registration process to be presented via the bank's internet banking platforms, payments to be made, GameSystem data to be queried and adjustments made via third party systems. The API is a RESTful API with calls being made over HTTP and using the HTTP methods POST, PUT, GET as verbs. API documentation is available here
http://docs.gamesystemadminapi.apiary.io
http://docs.gamesystemclientapi.apiary.io
Purpose Built
Game System is the only purpose built gamification platform for Financial Services
Save Time
The platform's pre loaded mechanics stop you having to build from scratch – saving time and money
Rules Engine
Rules Engine lets you change the rules of the game on the fly
Rewards platform
lets you add intrinsic and extrinsic rewards on the fly
Quiz platform
lets you add polls and quizzes on the fly
Community platform
lets you incorporate social – as important as fun
Engagement Methodology
custom built and battle tested process to define the game and the customer journey
Pre-Built
Native Mobile app libraries to quick start the build
Cloud Resident
for rapid and economic deployment
No PID data held
assists solution compliance
Ad server
Tag based ad server for cross sell
Bi Directional API
API for data extraction and omni channel integration.  Includes a set of integration and security frameworks and reference architectures to connect the game to operational systems
Anonymisation
Identity  Server for Security integration
Multiple Game Mechanics
stacks of levers for driving engagement and motivating behaviour
Player Management
Comprehensive player administration, recruitment and statics capture
Analytics
Reporting to let you know who's winning how.
Robust
Moroku GameSystem deployments have been live for over 4 years with no outage and no security incidents
Digital Heritage
The Moroku leadership team have been digitising banking since 1997 across the world for the biggest and best and continue to do so, this time with fun.