GameSystem – Enterprise Edition
Operations getting plenty of focus
Operations are the engine room of revenue and profit for many banks and enterprises. Online mortgage sites, fintechs, housing affordability, profitability and increased customer expectations are putting pressure on all aspects of the sales funnel, from lead capture through to offer turnaround
Performance Management is Key
Whilst process transformation, aggressive digitisation and product simplification all have merits, good old performance management transparency remains a key target for executives looking for efficiency and effectiveness gains. Spreadsheets and charts are working for the business but something else is needed for the operator – something fun
Staff Turnover
$11 billion is lost annually in the United States due to employee turnover, while only 16% of the U.S. workforce is "fully engaged. Operations staff are flat out handling calls, addressing emails and chats, managing service tickets and mastering new skills. Supervisors are also swamped, coaching new agents, shifting queues to meet SLA requirements, handling their own escalations and managing the business on the floor with very little time to address the human side of the agents' needs, which leaves agents alone in managing their day to day stress, building relationships with their peers and looking for meaning in their work.
Turnaround
"We are the generation now, This is the now generation. Facebook is a new place, Dip divin' socializin'. I'll be out in cyber space. Google is my professor. Wikipedia checker. Checkin my account. Loggin in and loggin out. Baby I want it.. Now!" Black Eyed Peas – Now Generation. Enough said. Customers want it now and often ahead of price. Meeting that speed is a key competitive strength
Funnel Management
We need active pipeline management to succeed. This means getting leads, renewals as well as new, into the funnel, out bound operations to convert them and then processing them into deals and revenue. It seems simple but keeping that level of discipline and rigour in the team is hard
AI and New Tech Promising but..
Artificial Intelligence, Machine Learning, Robotics and other technologies present enormous opportunity to replace people with machines, stripping out cost and improving service along the way. Yet these promises have been with us for several technology generations and whilst many of them have paid off, those with experience advise of projects taking longer, requiring more money and being riskier than imagined
Research from Gallup shows us that companies with highly engaged workforces
Outperform their peers in earnings per share
Enjoy less staff turnover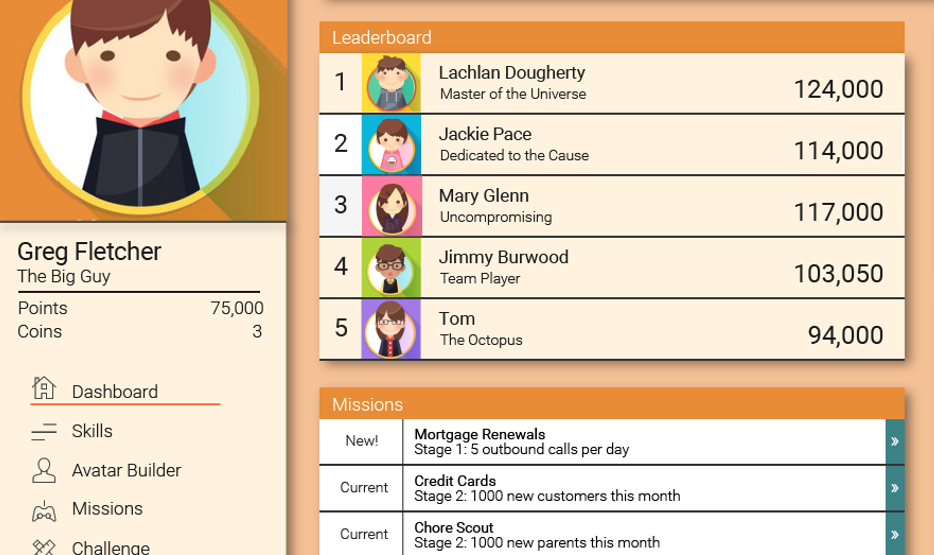 So we built Enterprise Edition
To bring some fun to the back office
Together we define the game in terms of success, players, teams, systems and data. This allows us to define a set of rules that operate on the operational data
This high-level game is then detailed as a set of rules that operate on system eventsand set up in the GameSystem and changed on the fly by you, whenever you want. We call it zero code
The GameSystem is deployed onto the intranet where team players can check in on their progress via a range of engagement elements including.
Team and player leaderboards, missions for the team, badges, personal bests, avatar builder, skill progression, challenges and more
Research shows us that play is not just joyful and energising, it's deeply involved with human intelligence, progress, exploration of the possible and skill building. Accordingly there is a strong correlation between success and playful activity. Conversley, if play is absent we may be limiting success.
Whilst management reports may be good for management they are less so the worker bees at the coalface. GameSystem works because it gives users the motivation to do something, the ability to carry out a task by breaking each task into bite-size chunks and providing the user a trigger or cue to complete the action.
Data Ingestion Engine
Our zero code integration platform takes data from operational systems that record who did what, when and how and turns it into game events
Adminstration Console
Allows you to login, check in whats going on and fine tune the rules, content and experience on the fly.
Responsive Player Experience
Presented both as a Team dashboard that is designed for large scale TV's and LCD displays in an ops center as well as an intranet display where individual players can login and see their individual progress .
World Class Support
Our professional servcies team will be there all the way.