Moroku GameSystem embeds gaming into otherwise routine customer experiences to attract, engage, educate and motivate players. We take the essence of games—fun, play, transparency, sharing and challenge—and make them available to applications so they can become sticky.
Moroku GameSystem is a powerful and flexible platform which supports the gamification of existing business systems.
Service providers like banks, wealth managers, insurance companies, media companies, utility companies and government agencies have to compete with this dazzling array of sexy fun things to do in order to get their customers attention on the otherwise boring mundane tasks of living: Paying bills, saving money, managing spend, filling out forms, going to interviews, doing jobs. Encouraging customers to spend as much time on the routine as they do on YouTube, Instagram, Facebook and Farmville is hard work.
Moroku presents a new set of services and applications that enable service providers to:
Make the customer experience fun, engaging and rewarding, luring customers to fall in love and stay in love with the applications.

Leverage a decade of good work in preparing rich 'core' web services

Destroy deployment times by running non-core functions, gamification and security perimeters in the cloud.
Multiple Game Mechanics
Moroku Game Server embeds a powerful range of game mechanics to motivate, educate and engage your customers, individually as well as collectively. Rewards and penalties can be applied, players are ranked on multiple leaderboards based on demographics and reset.
Game Control and Configuration
The GameServer control panel lets you set the trigger points for reward and penalty based on the customer activities you define along with the nature of any quizzes and other en-route activities. These are then connected to the app for the engine to start calculating positions for status and reward.
Player Management
Comprehensive Player administration, recruitment and statistical capture.

Administration: Control panel enables players to be reset, made active or suspended. Players can also be assigned to streams, indicating products or other categories played or registered to play

Recruitment. Players can be recruited from existing systems such as internet banking or other web systems with identity credentials and authorisation shared

Comprehensive Statistics are recorded against each player such as points, awards, sessions and levels
Analytics
GameServer provides you the information you need to understand who's winning, who's losing and who's engaging how, allowing you to refine the game and further improve the engagement education and experience.
Integration
There are two points of integration with GameServer. Web and mobile application integration occurs through a set of web resources. This allows the application developers to focus simply on the game. GameServer then comes with a set of integration and security frameworks and reference architectures to connect the game through to operational systems. This makes the game real and connected to reality, not just a 'fun thing'. A full set of Web Services connected via industry standard security systems ensures you connect your customers safely. Put our security team to the test.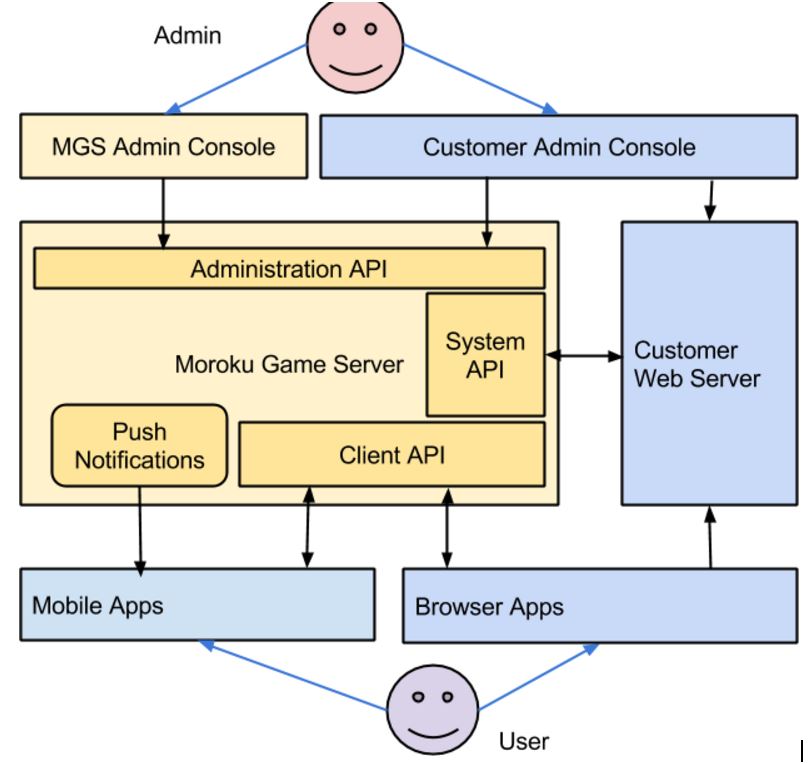 Social and Chatter
Social Networking brings more customers, partners and employees into the game and allows your players tell the world how well they are doing. We incorporate public networks like Facebook as well as enabling you to build your own through our integration with Salesforce Chatter.
Cloud
Moroku GameServer is a multi-tenanted cloud service. This means provisioning is fast and you get an evergreen product, that is when we rollout fixes and features you get to consume them at will. We run everything across Amazon Web Services and Salesforce to ensure some of the best uptime available
Based on scalable, powerful cloud technologies with a robust, open source security infrastructure, MGS provide a quick route to market for companies wishing to provide gamified solutions to incent and guide their' customers' behaviours.
The first is our hosted, SaaS platform for Gamification. The Moroku Game Engine is the shared, multi-tenant platform that we use to manage our customers and their customers. It stores league tables, points, and achievements for all players as well as hosting the rules which allow it to be configured.
Game Server
The Game Server is a rails app that contains all of the gamification information and is responsible for the game mechanics (points, leaderboards, achievements, etc.). The client apps talk to the Game Server via an API.
Admin Console
The Admin Console is a component of the Game System used by the client (whoever purchases the system) to configure and manage the content that is used by the Game Server and displayed in the client apps. The Admin Console pulls and pushes data to the Game Server via an API.